ENERGY
Recognizing the critical role energy plays in the quality of life and economic development of Alaska's communities, the Denali Commission has made energy its primary infrastructure theme since 1999. The Commission has made great strides developing safe and reliable energy infrastructure in Alaska.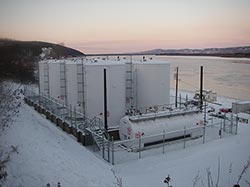 The Energy Program funds the design and construction of replacement bulk fuel storage facilities, upgrades to community power generation and distribution systems, energy efficiency measures and alternative energy projects. The Commission primarily works with the Alaska Energy Authority (AEA) and Alaska Village Electric Cooperative (AVEC) to meet rural communities' fuel storage and power generation needs.
Types of Projects Funded:
Bulk-Fuel Storage
Community Power Generation
Transmission and Distribution Systems
Energy Efficiency Projects
Alternative and Renewable Energy

Contacts:
Tom Wolf PE. PMP
Direct: 907-271-5232
twolf@denali.gov
TRANSPORTATION
The Denali Commission's (Commission) Transportation Program was originally created in 2005 as part of the Safe Accountable Flexible Efficient Transportation Equity Act: A Legacy for Users (SAFETEA-LU) legislation  and accompanying amendments to the Denali Commission Act of 1998 (as amended).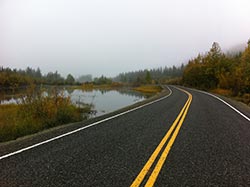 The Denali Commission's Transportation Program includes two major components, rural roads and waterfront development.
The roads portion of the program targets the planning, design and construction of basic road improvement needs including projects that connect rural communities to one another and the state highway system, and opportunities to enhance rural economic development.  Eligible road project types include, but are not limited to: ATV board roads, local community road and street improvements, and roads and board roads to subsistence use sites.
The waterfront portion of the program addresses planning, design and construction of port, harbor and other rural waterfront needs.  Eligible project types include, but are not limited to: regional ports, barge landings and docking facilities.
SAFETEA-LU expired in 2009 and operated under a continuing resolution from June of 2009 through June of 2012.
In late June of 2012, Congress passed a two-year transportation bill, titled MAP-21, that did not include authorization or funding for the Commission's transportation program.
Commission staff will continue to administer the program in coordination with the members of the Transportation Advisory Committee (TAC). The TAC is the body who rates and ranks project submissions, recommends projects to the Federal Co-Chair, and advises the Commission on rural surface transportation needs in Alaska.
The Commission works closely with the following recipients and program partners:
U.S. Federal Highway Administration (FHWA), Western Federal Lands Highway Division(WFLHD) and Alaska Division
Alaska Department of Transportation and Public Facilities (ADOT&PF)
U.S. Army Corps of Engineers (USACE), Alaska District
Regional, local and tribal governments, and regional tribal nonprofits

Program Contacts:
Tom Wolf PE, PMP
Direct: 907-271-5232
twolf@denali.gov
GOVERNMENT COORDINATION
The Denali Commission is charged with the special role of increasing government effectiveness. The Commission does so by acting as a catalyst and strategic partner for many federal and state programs in Alaska. The Commission joined others in a Memorandum of Understanding (MOU) that outlines the roles of agencies in coordinating resources and efforts in areas such as community planning, sustainability, data sharing and coordination of pre-construction activities. This MOU served as the basis for creating several multi-agency workgroups and cooperative projects that have increased overall government effectiveness. The MOU was amended in 2003 with increased participation from both state and federal partners, and renewed once again in 2008. This renewed effort focuses on improving the channels of communication among the heads of all federal and state agencies with an emphasis on critical issues that affect the entire state of Alaska: the high cost of energy, outmigration, and coordination of efforts among all government agencies.
Government Coordination has become a mainstay of the efforts of the Denali Commission in improving communities in rural Alaska. In addition to the MOU Partners Workgroup, the Sustainable Rural Communities Workgroups and the Buckland Workgroup are actively involved in finding solutions to the needs of rural Alaska.
Contacts:
Jay Farmwald, PE
Direct: 907-271-1413
jfarmwald@denali.gov
OTHER PROGRAMS
HEALTH FACILITIES
Congress amended the Denali Commission Act in 1999 to provide for planning, designing, constructing and equipping health facilities. The Health Facilities Program is a collaborative one, with the partnership of numerous organizations, and the invaluable assistance of the Alaska Native Regional Health Corporations. The Commission has methodically invested in regional networks of primary care clinics across Alaska. In response to Congressional direction in 2003, funding for additional program areas addressing other health and social service related facility needs was initiated. The Health Facilities Program adopted innovative additions to clinic design, including behavioral health and dental care. Over the years, the program expanded to include annual initiatives like domestic violence facilities, elder housing, primary care in hospitals, emergency medical services equipment and hospital designs.

During the past 13 years, the program utilized a universe of need model for primary care and an annual selection process through a Health Steering Committee for other program areas. In 2000, the program created a deficiency list for primary care clinics and found 288 communities statewide in need of clinic replacement, expansion and/or renovation; this list was updated in 2008. Projects have been recommended for funding if they demonstrate project readiness.  The Health Facilities Program was last funded by Congress in FY 2010. No new construction project nominations are currently being accepted.
Types of Projects Historically Funded:
Primary Care Facilities
Behavioral Health Facilities
Domestic Violence Facilities
Elder Supportive Facilities
Assisted Living Facilities
Primary Care in Hospitals

Contacts:
Jay Farmwald, PE
Direct: 907-271-1413
jfarmwald@denali.gov
TRAINING
As the Denali Commission funded projects for new clinics, roads, and tank farms it also provided sustainability for these projects by including training for local residents to maintain and operate new facilities.
The Denali Commission has administered training program through numerous program partnerships. Each program partner has provided a high level of training opportunities that support Commission investments in rural Alaska by providing training for careers related to Commission programs such as Energy, Transportation and Health Facilities.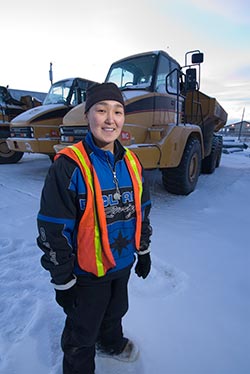 Types of Training Funded:
Allied Health Professions
Construction Trades
Facility Operations and Maintenance
Administration of Public Infrastructure
Youth Initiatives

The Training Program was last funded in 2009. Applications for new training initiatives are no longer being accepted.
Contacts:
Jay Farmwald, PE
Direct: 907-271-1413
jfarmwald@denali.gov
VILLAGE INFRASTRUCTURE PROTECTION
The Village Infrastructure Protection (VIP) program is dedicated to assisting rural Alaska communities that are threatened by erosion, flooding and permafrost degradation. The program goal is to mitigate the impact of these threats with respect to safety, health and the protection of infrastructure.
Contacts:
Captain Don Antrobus
Program Manager
Direct: 907-271-3500
dantrobus@denali.gov