The Denali Commission's (Commission) Transportation Program was originally created in 2005 as part of the Safe Accountable Flexible Efficient Transportation Equity Act: A Legacy for Users (SAFETEA-LU) legislation and accompanying amendments to the Denali Commission Act of 1998 (as amended).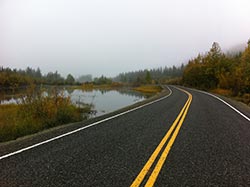 The Denali Commission's Transportation Program includes two major components, rural roads and waterfront development.
The roads portion of the program targets the planning, design and construction of basic road improvement needs including projects that connect rural communities to one another and the state highway system, and opportunities to enhance rural economic development. Eligible road project types include, but are not limited to: ATV board roads, local community road and street improvements, and roads and board roads to subsistence use sites.
The waterfront portion of the program addresses planning, design and construction of port, harbor and other rural waterfront needs. Eligible project types include, but are not limited to: regional ports, barge landings and docking facilities.
SAFETEA-LU expired in 2009 and operated under a continuing resolution from June of 2009 through June of 2012.
In late June of 2012, Congress passed a two-year transportation bill, titled MAP-21, that did not include authorization or funding for the Commission's transportation program.
Commission staff will continue to administer the program in coordination with the members of the Transportation Advisory Committee (TAC). The TAC is the body who rates and ranks project submissions, recommends projects to the Federal Co-Chair, and advises the Commission on rural surface transportation needs in Alaska.
The Commission works closely with the following recipients and program partners:
U.S. Federal Highway Administration (FHWA), Western Federal Lands Highway Division(WFLHD) and Alaska Division
Alaska Department of Transportation and Public Facilities (ADOT&PF)
U.S. Army Corps of Engineers (USACE), Alaska District
Regional, local and tribal governments, and regional tribal nonprofits
Program Contacts:
Tom Wolf PE, PMP
Direct: 907-271-5232
twolf@denali.gov