Health Facilities
Congress amended the Denali Commission Act in 1999 to provide for planning, designing, constructing and equipping health facilities. The Health Facilities Program is a collaborative one, with the partnership of numerous organizations, and the invaluable assistance of the Alaska Native Regional Health Corporations. The Commission has methodically invested in regional networks of primary care clinics across Alaska. In response to Congressional direction in 2003, funding for additional program areas addressing other health and social service related facility needs was initiated. The Health Facilities Program adopted innovative additions to clinic design, including behavioral health and dental care. Over the years, the program expanded to include annual initiatives like domestic violence facilities, elder housing, primary care in hospitals, emergency medical services equipment and hospital designs.

During the past 13 years, the program utilized a universe of need model for primary care and an annual selection process through a Health Steering Committee for other program areas. In 2000, the program created a deficiency list for primary care clinics and found 288 communities statewide in need of clinic replacement, expansion and/or renovation; this list was updated in 2008. Projects have been recommended for funding if they demonstrate project readiness.  The Health Facilities Program was last funded by Congress in FY 2010. No new construction project nominations are currently being accepted.
Types of Projects Historically Funded:
Primary Care Facilities
Behavioral Health Facilities
Domestic Violence Facilities
Elder Supportive Facilities
Assisted Living Facilities
Primary Care in Hospitals
Contacts:
Jay Farmwald, PE
Direct: 907-271-1413
jfarmwald@denali.gov
Training
As the Denali Commission funded projects for new clinics, roads, and tank farms it also provided sustainability for these projects by including training for local residents to maintain and operate new facilities.
The Denali Commission has administered training program through numerous program partnerships. Each program partner has provided a high level of training opportunities that support Commission investments in rural Alaska by providing training for careers related to Commission programs such as Energy, Transportation and Health Facilities.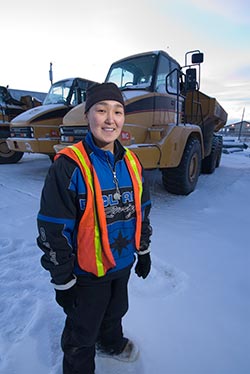 Types of Training Funded:
Allied Health Professions
Construction Trades
Facility Operations and Maintenance
Administration of Public Infrastructure
Youth Initiatives
The Training Program was last funded in 2009. Applications for new training initiatives are no longer being accepted.
Contacts:
Jay Farmwald, PE
Direct: 907-271-1413
jfarmwald@denali.gov